Listen to News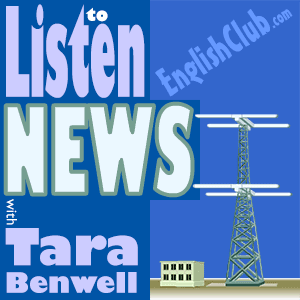 Regular listening practice based on the weekly news, with:
pre-reading vocab
reading
gap-fill exercise
comprehension quiz
answers
Study the news story each week and watch your English skills grow!
Subscribe to EnglishClub Podcasts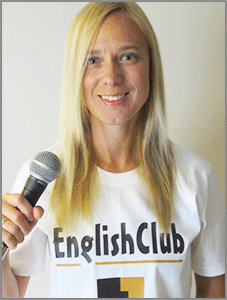 Each Tuesday, EnglishClub publishes a short audio news report in easy English from the previous week. With this resource you can practise your listening, reading, writing and even speaking.
Preview the vocabulary and read the gapfill text.
Play the news report and try to fill in the blanks.
Answer the comprehension questions by writing full sentences.
Use the discussion question to write an essay or discuss the story with other students.
Pretend to be a news anchor by reading each story out loud.
Click "show Answers" to view the full text of the story and check answers.
---
dateline: 22 October 2013:
Polio Outbreak Feared In Syria

dateline: 15 October 2013:
Malala Visits The White House

dateline: 08 October 2013:
Death Toll Rises After Migrant Shipwreck

dateline: 01 October 2013:
Saudi Women Seek Right To Drive

dateline: 24 September 2013:
Costa Concordia Set Upright

dateline: 17 September 2013:
Long-Named Hawaiian Woman Wins ID Battle

dateline: 10 September 2013:
Tokyo To Host 2020 Olympic Games

dateline: 03 September 2013:
Woman Completes Cuba To Florida Swim

dateline: 27 August 2013:
US Says Chemical Weapons Used In Syria

dateline: 20 August 2013:
Volcanic Ash Covers Japanese City

dateline: 13 August 2013:
Subsidized Food Plan Proposed In India

dateline: 06 August 2013:
US Embassies Closed Due To Terror Threat

dateline: 30 July 2013:
American Golfer Chooses Family First

dateline: 23 July 2013:
Duchess Kate Gives Birth To Baby Boy

dateline: 16 July 2013:
Missing Canadians Presumed Dead In Runaway Train Accident

dateline: 09 July 2013:
Two English Learners Die In Airline Crash

dateline: 02 July 2013:
Chinese Law Says People Must Visit Elderly Parents

dateline: 25 June 2013:
80,000 Rescued From Floods In India

dateline: 18 June 2013:
Brazil Vows To Clean Up Rio's Shanty Towns

dateline: 11 June 2013:
Naked Cyclists Rally In Mexico City

---
---
Listen to News Archives
---
12 stories per Year (with quiz):
2006 - 2007 - 2008 - 2009 - 2010
---
4 stories per Month (with exercise):
2010:
Jan | Feb | Mar | Apr | May | Jun | Jul | Aug | Sep | Oct | Nov | Dec
2009:
Jan | Feb | Mar | Apr | May | Jun | Jul | Aug | Sep | Oct | Nov | Dec
2008:
Jan | Feb | Mar | Apr | May | Jun | Jul | Aug | Sep | Oct | Nov | Dec
2007:
Jan | Feb | Mar | Apr | May | Jun | Jul | Aug | Sep | Oct | Nov | Dec
---
Guide for Teachers: how to use Listen to News in your classroom
---