Listen to News
Each Tuesday, EnglishClub publishes a short audio news report in easy English. With this resource you can practise your listening, reading, writing and even speaking.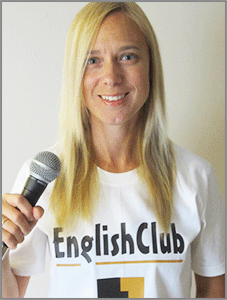 Preview the vocabulary and read the gapfill text.
Play the news report and try to fill in the blanks.
Answer the comprehension questions by writing full sentences.
Use the discussion question to write an essay or discuss the story with other students.
Click "show Answers" to see the full text.
Pretend to be a news anchor by reading each story out loud.
dateline: 04 November 2014:
Jupiter Stares Back at NASA
dateline: 28 October 2014:
Terrorist Kills Soldier in Canada's Capital
dateline: 21 October 2014:
Apple Pay Rolls Out In US
dateline: 14 October 2014:
Disease Detectives Investigate Ebola Breach
dateline: 07 October 2014:
Man Rescued From Floating Bubble
dateline: 30 September 2014:
News Quiz – September 2014
dateline: 30 September 2014:
Scientists Design Real-Life Invisibility Cloak
dateline: 23 September 2014:
Scotland Votes Not To Separate
dateline: 16 September 2014:
Microsoft Acquires Minecraft
dateline: 09 September 2014:
Dog Ate 43.5 Socks
dateline: 02 September 2014:
Chibatman Becomes Internet Superhero
dateline: 26 August 2014:
Independent Film Festival Shut Down In China
dateline: 19 August 2014:
Robin Williams Had Parkinson's Disease
dateline: 12 August 2014:
Ebola Outbreak in West Africa
dateline: 05 August 2014:
Robot Hitchhikes Across Canada
dateline: 29 July 2014:
Monaco Has The Most Millionaires
dateline: 22 July 2014:
Malaysia Airlines Plane Shot Down
dateline: 15 July 2014:
Germany Wins 2014 World Cup
dateline: 08 July 2014:
Electronic Devices Must Be Charged To Fly To US
dateline: 01 July 2014:
World Cup Athletes Consider Fasting During Ramadan
dateline: 24 June 2014:
Katy Perry Offers Service To Hillary Clinton
dateline: 17 June 2014:
Magic Spray Used At World Cup
dateline: 10 June 2014:
1,600 Pandas Arrive At Hong Kong Airport
dateline: 03 June 2014:
The Right To Be Forgotten By Google
dateline: 27 May 2014:
Pizza Delivered By Drone
dateline: 20 May 2014:
Heaviest Dinosaur Discovered
dateline: 13 May 2014:
NFL Drafts First Openly Gay Player
dateline: 06 May 2014:
Afghan Village Declared Mass Graveyard
dateline: 29 April 2014:
Love Lock Ritual May End in Paris
dateline: 22 April 2014:
Divers Search Sunken South Korea Ferry
dateline: 14 April 2014:
Heartbleed Bug Threatens Internet Security
dateline: 08 April 2014:
EU Satellite System Will Monitor Earth's Health
dateline: 01 April 2014:
Tigers Slaughtered For Entertainment Purposes
dateline: 24 March 2014:
Twitter Blocked In Turkey
dateline: 18 March 2014:
Baby Hatch Closes In China
Subscribe to EnglishClub Podcasts